Comfort and style without sacrificing speed and safety? Our cruiser ebikes combine looks, brains, and good taste—just like the folks who ride them.
Powerful 500W Motor
Speed and power to stay versatile in traffic.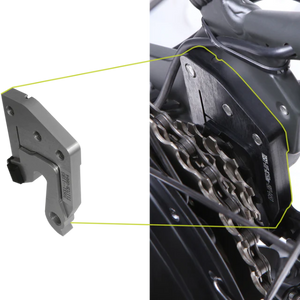 Torque Sensors
Ride with bionic legs.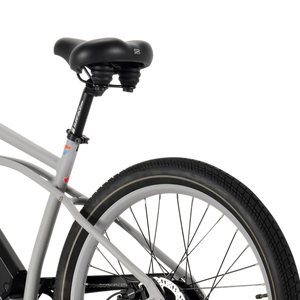 Comfortable Saddles
Soft gel seats for easy riding.
Cruisers that Let You Surf the Streets in Style
Settle into a relaxed riding posture and focus on having fun with the most comfortable two-wheelers around. With plush seats you'll love sinking into and surprising power, these ebikes prove that you don't have to give up performance to enjoy polish and finesse.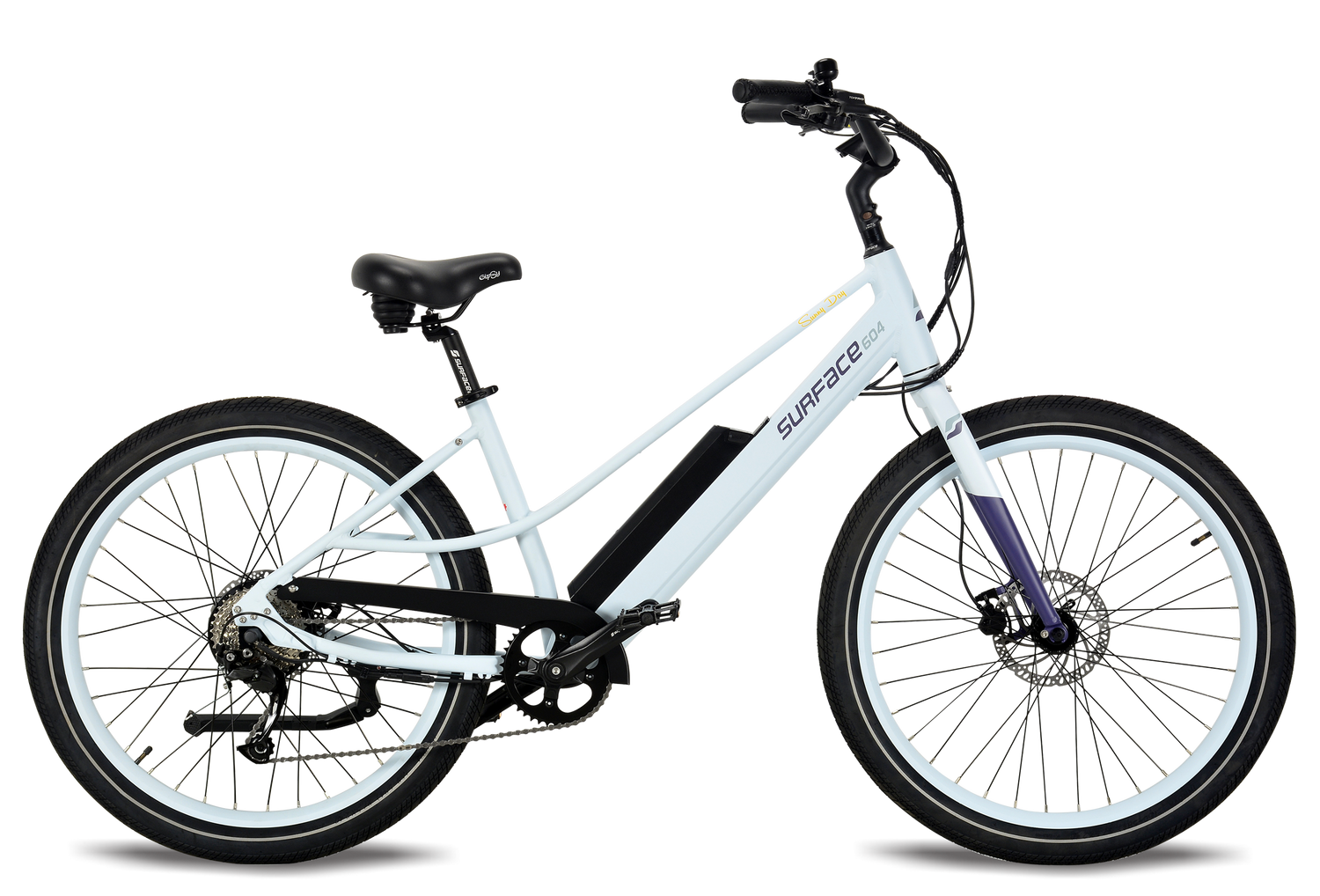 SUNNY DAY
A low-step cruiser that offers a large, comfy saddle and custom Innova tires for effortless road riding and urban voyages.
VIEW SUNNY DAY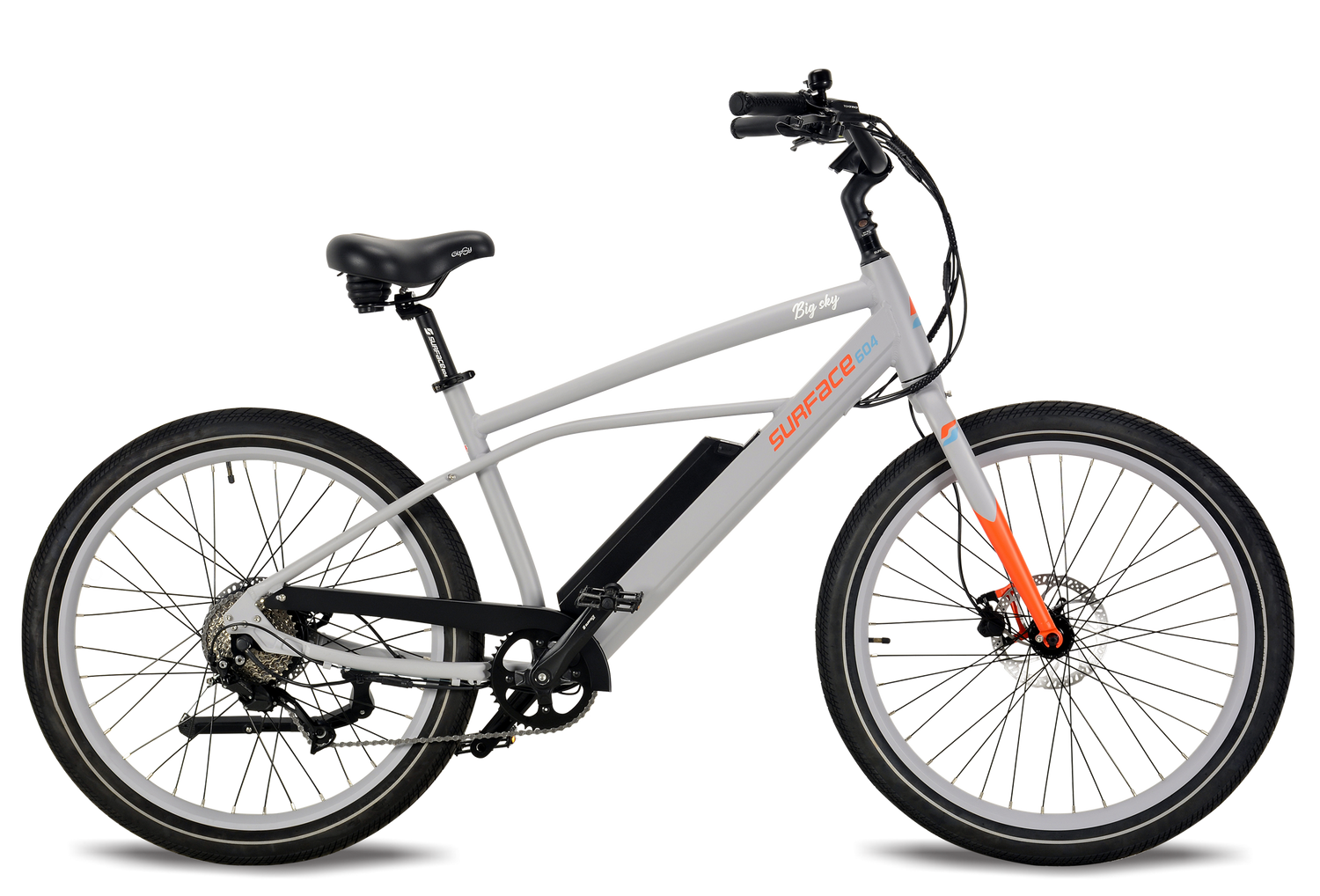 BIG SKY
A high-step cruiser that offers the best features of a commuter bike in a sleeker, more elegant package. Innova tires with reflective sidewalls come standard.
VIEW BIG SKY
"Enjoying My New Bike"
"I am very happy with my bike! Your claims about the bike are well taken and I am looking forward to hours of outdoor pleasure on it!"
Powerful 500W Bafang Motor
Torque to Spare–Go Climb That Hill!
Cruise up and down hills with ease, thanks to the 500W Bafang geared hub brushless motor that provides up to 65Nm of torque to help you turn on the power when you need it. With these cruisers, "low 'n' slow" is a choice, not an obligation.
Torque Sensor
Smooth & Natural Power Gives You Bionic Legs
Our torque sensor system delivers power based on how hard you're pedaling, giving you superior control over your speed and making the whole riding experience more intuitive. You choose where you cruise.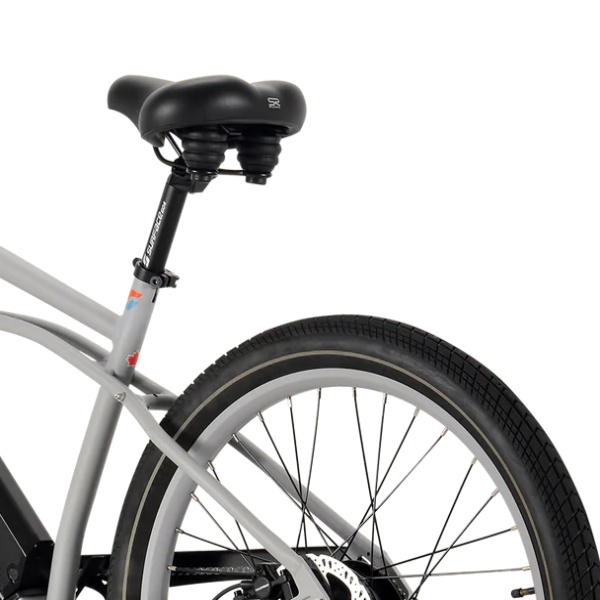 Comfortable Saddles
Give Your Behind a Break
Enjoy longer rides with fewer aches and pains, thanks to the ergonomic gel seats that come standard with all our cruiser models. When you're sitting on one of these, you get to decide when the ride's over—not your lower back.
How Are Surface 604's Cruiser eBikes & Commuter eBikes Different?
Our cruiser ebikes offer the same power and braking capabilities as our commuter models, plus streamlined frame design and comfortable gel saddles to deliver maximum comfort and style for your recreational rides. They also come with specially-designed swept-back handlebars to put you in a more relaxed posture—think blissful morning rides along the shore or coasting along bike paths in regional parks.
Our commuter ebikes are designed to blend form and function for everyday tasks and travel—think luggage racks, full fenders, chain guards, adjustable suspension, and other features that make trekking through the city safe, practical, and fun.
Looking to commute? Check out our electric commuter bikes.
How Long Does It Take to Charge the Battery in Surface 604's Cruiser eBikes (& How Long Will It Last)?
The batteries in our Big Sky and Sunny Day cruiser ebikes take approximately 3-4 hours to charge, and provide the following mileage depending on the battery type you choose:
Standard battery: Up to 45 miles (72km)
Extended range battery: Up to 65 miles (105km)
If you want to charge your ebike's battery faster, consider purchasing a 48V 4A Fast Charger (note—we recommend only using a designated Surface 604 charger to ensure compatibility with your ebike battery and avoid accidental damage).
Why Are Torque Sensors Important for Cruiser eBikes?
Our cruiser ebikes are meant to make riding fun and easy—giving you ample access to power and performance when you need it. By using torque sensors that detect how hard you're pedaling and instantly adjust the motor's output to match, we let you control the bike intuitively instead of having to manually adjust your pedal assist mode. The result? You get to have more fun and less frustration.
Do Your Cruiser eBikes Come with a Warranty?
We want you to be satisfied with your purchase. All of Surface604's ebikes come with a one-year warranty on parts and a 7-day money back guarantee.
Do Your Cruiser eBikes Come Pre-Assembled?
We ship easy-to-follow instructions along with all of our cruiser ebikes so you can set them up fast and start enjoying them. If you want to buy a fully assembled version of any of our cruiser models, contact your nearest Surface604 dealer for an ebike you can ride right out of the store.
Can I Test Ride Your Cruiser eBikes?
We love to see people trying out our ebikes, but test rides are typically scheduled at the discretion of our dealers. Find a dealer near you here and ask about the model you're interested in.