Easy to store and even easier to ride. Throw one of our folding ebikes in your trunk, drive it to your destination, and get set up to ride in seconds.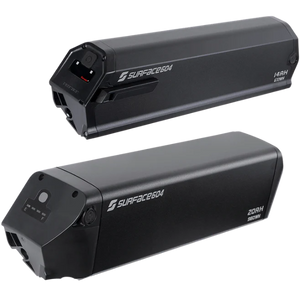 Long Range Batteries
Small bikes; big distances.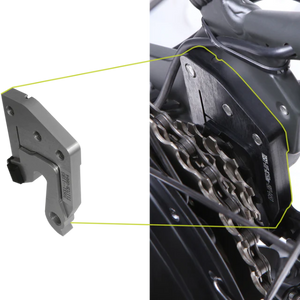 Torque Sensors
Ride with bionic legs.
Intelligent Frame Design
Smart folding points let you pack more ebike into less space.
Folding eBikes that Deliver Practical Performance
Making an ebike packable doesn't mean cutting corners, at least that's what we believe. Our folding ebikes include top-of-the-line rider aides like hydraulic disc brakes, powerful Büchel front and rear lights, and gel saddles—plus beautiful step-thru frame geometry that's as convenient to ride as it is to fold up and throw in the back seat.
TWIST
A one-size-fits-all fat tire folding bike that sports a 500W Bafang motor, full front fenders, a rear luggage rack, and more—all in a package that fits in your trunk.
VIEW TWIST
"Loving It!"
"This is my new daily commuter and I'm loving it. The throttle picks up really fast and the pedal assist is almost instantaneous. I like that the pedals fold, because it's easier to get through the door. The frame is sturdy and the fat tires make for a super soft ride. The lights are bright and the reflective substance added to the tires helps me to be seen. The fenders that are included keep me dry, and the bell Is handy as I am passing people all the time. Truly the new joy of my life!"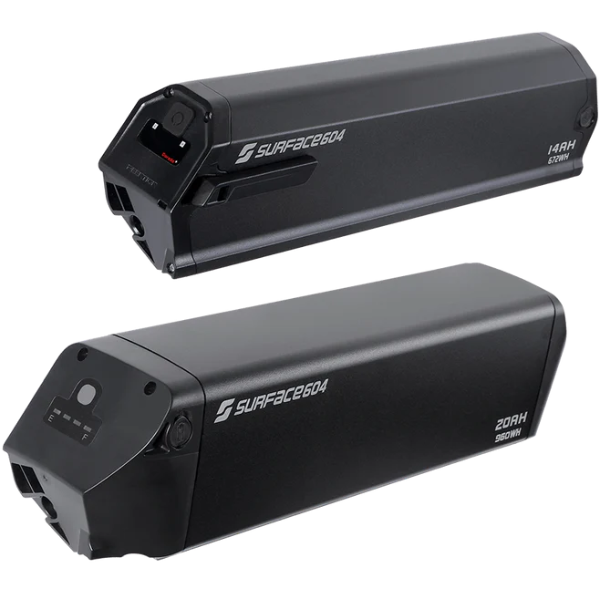 Long Range Batteries
Up to 45 Miles (72 Km) On a Single Charge
A high-capacity 48V14Ah Samsung lithium-ion battery provides maximum range—even when you're carrying heavy loads. Better yet, the battery lets you charge your mobile device on the go with a built-in USB port.
Whisper-Quiet Torque Sensor
Smooth & Natural Power Gives You Bionic Legs
Get power delivery based on how hard you're pedaling for intuitive speed adjustments. The advanced torque sensor system in our folding bikes detects the pressure you apply and adjusts the motor's output to match in mere milliseconds.
Intelligent Frame Design
Folding, Low Step-Thru Geometry
Foldable doesn't mean flimsy. Internal cable routing with folding stems, levers, and pedals make these ebikes easy to pack up and transport, but their strength and low standover height make them just as fun and reliable as any standard road or mountain ebike.
Are Surface 604's Folding eBikes Suitable for Off-Roading?
As mini fat tire ebikes with the same range as the standard battery option in our Boar Hunter and Boar Explorer models, Surface 604 folding ebikes can traverse a variety of riding surfaces and travel 45 miles (72 km) on a single charge.
These bikes are more than capable of handling light trails, bumps in the road, and environmental conditions like sand or mild snow. When you need a bike you can take to the great outdoors without buying a roof rack for your car, this is your best bet.
However, we do not suggest taking a folding ebike on downhill trails, jumps, or other types of riding that put significant forces on the bike frame.
Are Folding eBikes Too Small for Big or Tall Riders?
Nope! Our folding eBikes are designed to fit riders anywhere between 5'2" and 6'6" tall, and have a maximum weight capacity of 285 lbs (130 kg). They're compact and lightweight, but you don't have to be!
Are Surface 604's Folding eBikes Safe for Daily Commuting?
Absolutely. While you won't get the luggage racks or presence that our dedicated commuter ebikes offer, our folding ebikes are absolutely safe and practical to ride through the city streets.
Powerful Büchel LED front and rear lights give you plenty of visibility in traffic, while built-in torque sensors and a thumb throttle give you a variety of ways to control your speed and a Selle Royale gel saddle keeps you comfortably seated. Plus, you can fold them up and store them conveniently when you reach your destination instead of parking them on the road!
Do Your Folding eBikes Come with a Warranty?
We want you to be satisfied with your purchase. All of Surface604's ebikes come with a one-year warranty on parts and a 7-day money back guarantee.
Do Your Folding eBikes Come Pre-Assembled?
We ship all of our folding ebikes with easy-to-follow assembly instructions so that you can set yours up and start riding as soon as possible. To buy a fully-assembled ebike, contact a dealer near you.
Can I Test Ride Your Folding eBikes?
We love to see people trying out our ebikes, but test rides are typically scheduled at the discretion of our dealers. Find a dealer near you here and ask about the model you're interested in.