Reviews
Customer Reviews
Write a Review
Ask a Question
11/10/2020
Judith G.
United States
2020 Rook
Purchased it at Phatt tires in Scottsdale, AZ. They delivered it with the additional items install, i.e rearview mirror and liners in tires. As a bike rider all my life, this Rook is the ultimate ride. Purchased as my 80th birthday gift to me, and still smiling!
11/02/2020
Tom M.
United States
Rook 2020
Had it out for the first time this weekend. The bike is spectacular, for someone who has spent a lifetime on light weight road bikes it is a different experience. Smooth, stable and fast. High quality components, very well designed. Expect to put serious miles on this bike. At age 79 it will get me back on those 2-3 hour rides.
09/10/2020
Steve C.
United States
Rook 2020 Hours of Fun
We have had our rooks one week! Bikes and batteries arrived in 8 days. It took about an hour to assemble the first Rook and about 20 minutes to assemble the second Rook I purchase the M/S for my wife 117 lbs and 5'6". She loves it. I am 5'10" 184 lbs and purhased the M/L. We can ride either bike comfortably. We did order the 14Amp battery as we like to ride between 30-50 miles several times each week. Our first ride was 42 miles using assist level 1 the entire distance. The battery was still 56% charged at the end of the ride. All the features that the Rook comes with make this an awesome bike for the price. Avid bikers--79 years old!!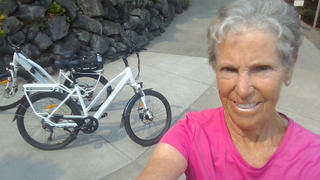 09/07/2020
Paul C.
Canada
Our ebikes
The bikes are awesome feel like a kid again. Would have given 5 stars except for the fact my chain guard not installed properly. Had to retap one of the holes for chain guard. For the money I paid for bike the Q&A should have been better. Very happy with the bikes performance
09/03/2020
Belinda L.
United States
Took review bike
Bike came quickly Third Day waiting for battery assembled quickly can't wait to ride